Women Artists in Residence
Women are underrepresented in art. Therefore, Franziska Cordts established the "Cordts Art Foundation" – a charitable foundation to support female artists.
Activities
Private initiative must accomplish what politics cannot. That was the guiding idea for Franziska and Tim Cordts when they founded their Cordts Foundation in October 2014. The entrepreneur and his children are determined to uphold material and moral values. The family is therefore bound to its participation in the responsibility of society as a whole to commit to the welfare of employees of the company and their families. One purpose of the foundation is to support them in exceptional situations such as financial hardship or illness.
The foundation's central mission, however, is to support cultural life, in particular the visual arts, language, and music.
Damnatz Sculpture Garden
Since 2014 the Cordts Foundation has been helping with the maintenance and preservation of the unique sculpture garden in the Wendland which has been run by the couple Monika and Klaus Müller-Klug since 1994. Within this 10,000 square metre park, twelve artists created thirty large sculptures which form a symbiotic relationship with trees, hedges, and ponds. In December 2015, the Müller-Klugs donated the sculpture garden to the Cordts Foundation so it may preserve their life's work.
Press release February 2016:
Skulpturenpark Damnatz an Hamburger Stiftung übergeben (Damnatz sculpture park transferred to a Hamburg foundation)
Neuer Ruf Wilhelmsburg 07/2016
Elbe-Jeetzel-Zeitung 30/06/2016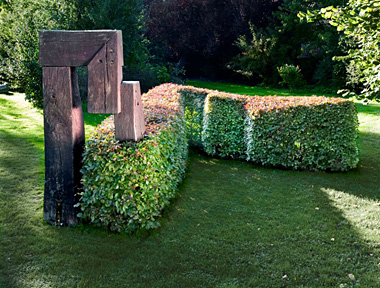 Assistance in Case of Illness
The foundation supported one of Tim Cordts' employee's family members who suffered a serious back injury. Due to wrong treatment she had to go into early retirement, and any movement caused her pain. The Cordts Foundation was able to pay for the patient to have an operation that alleviated her condition somewhat. In addition, she was supported when requesting her rightful compensation for damages.
Gallery
Die Erste Etage
This special gallery, "The First Floor", is located in the office building of Tim Cordts' company in Wilhelmsburg. The rooms offer a large projection screen for contemporary art and modern artists. The gallery presents exhibitions at regular intervals.